Important information regarding delivery times:
Please note that our office will be closed from 23.12.2023-01.01.2024. All upcoming orders will be processed as soon as possible.
Due to the annual closing of the tissue bank C+TBA and the partner company for irradiation for Christmas from 23.12.2023-01.01.2024, the lead time will be longer than usual. The estimated delivery date will be communicated separately for every individual order.
We apologize for any inconveniences.
max

graft® bonebuilder
CUSTOMIZED ALLOGENIC BONE BLOCK FOR TWO-STAGE ALVEOLAR RIDGE AUGMENTATION

Based on CT/CBCT scans of the patient, the bone block is virtually designed using the latest 3D CAD/CAM (computer-aided design/computer-aided manufacturing) technology.
maxgraft® bonebuilder offers greater precision and accuracy of fit compared to classical block augmentation. Manual adjustment of the block during the operation is seldom required and maxgraft® bonebuilder may be applied directly onto the defect, reducing surgery time as well as risk of infection.1-5 The individual design provides a precise fit between local bone and the allogenic bone block, enabling rapid revascularization and fast graft incorporation.6-7
PLANNING & PRODUCTION
maxgraft® bonebuilder is planned in close interaction between clinical users and botiss CAD-designers with multiple feedback loops to ensure an optimal fit. Communication is mainly done via email using the comment section on the specific order web page.
STEP BY STEP
1. Data upload
2. Block design
3. Design check of the 3D-planning
4. Order of maxgraft® bonebuilder
5. Production
6. Invoice and delivery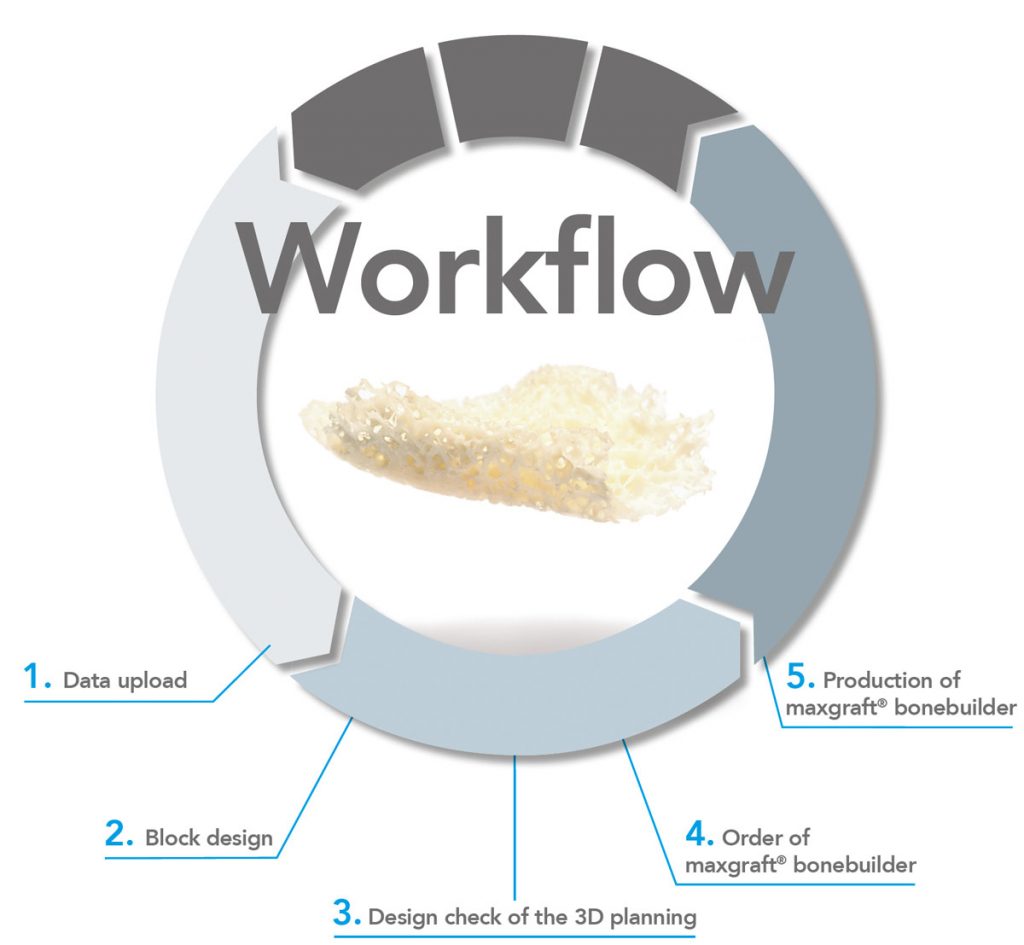 maxgraft®

SAFE, RELIABLE AND PREDICTABLE CLINICAL OUTCOME
maxgraft® bonebuilder is produced at the Cells+Tissuebank Austria (C+TBA), a non-profit organization aiming to provide allogenic transplants for orthopedic and dental regeneration situated in Krems/Austria.
maxgraft® bonebuilder is made from cancellous human donor bone and originates from femoral heads (taken during hip surgery) of living donors from certified procurement centers in Europe.
PROPERTIES
+ Processed human allograft from selected living donors
(Production: C+TBA, Krems, Austria)
+ Natural mineralized collagen
+ Maximum size: 23 x 13 x 13 mm
+ Fast graft incorporation and complete remodeling potential
+ No donor site morbidity
+ 5-6 months healing-/integration time
+ 5 years shelf life at 5-30°C
References
1 Jacotti et al. 2014. Posterior atrophic mandible rehabilitation with onlay allograft created with CAD-CAM procedure: a case report. Implant Dent. Feb;23(1):22-8
2 Blume et al. 2017. Treatment of Severely Resorbed Maxilla Due to Peri-Implantitis by Guided Bone Regeneration Using a Customized Allogenic Bone Block: A Case Report. Materials, 10, (10) 1213
3 Blume et al. 2019. Bilateral maxillary augmentation using CAD/CAM manufactured allogenic bone blocks for restoration of congenitally missing teeth: A case report. J Esthet Restor Dent.31(3):171-178
4 Blume et al. 2019. Reconstruction of a Unilateral Alveolar Cleft Using a Customized Allogenic Bone Block and Subsequent Dental Implant Placement in an Adult Patient. J Oral Maxillofac Surg. 77(10):2127.e1-2127.e11
5 Otto et al. 2017. Custom-milled individual allogeneic bone grafts for alveolar cleft osteoplasty—A technical note J Craniomaxillofac Surg. Dec;45(12):1955-1961
6 Kloss et al. 2020. Customized allogeneic bone grafts for maxillary horizontal augmentation: A 5-year follow-up radiographic and histologic evaluation. Clin Case Rep. 2020;00:1–8
7 Tuna et al. 2021. From a CAD/CAM-milled, allogeneic bone block to an implant-supported fixed partial denture with angulated screw channel: a case report. Quintessence Int. 2021;52(1):56-63